JOŠ JEDNOM O VIJETNAMU
ISTORIJA, HOLOKAUST, IDENTITET U SAVREMENOJ KULTUROLOŠKOJ DEBATI I ROMANU ZEMLJE SUMRAKA
Кључне речи:
istorija, holokaust, identitet, mit, Kuci, Zemlje sumraka
Сажетак
Rad predstavlja odziv na ono što su filmski reditelji poput Kleja Klejborna prepoznali kao nužno suočavanje sa potisnutim istinama o Vijetnamu, da bi se iz te perspektive sagledao tragični mehanizam istorijskog ponavljanja. Klejborn je samo jedan od sve brojnijih savremenih autora – istoričara, analitičara kulture, umetnika – koji se suočavaju sa kontinuitetom rata i nasilja uprkos deklarativnim opredeljenjima za mir i stabilnost, nastojeći da razotkriju uzrok ovom paradoksu. Prvi deo rada posvećen je autorima različitih provenijencija ali sličnih humanističkih uverenja i zajedničke, postkolonijalne tačke gledišta, iz koje rat, a posebno holokaust, sagledavaju ne kao istorijsku aberaciju uslovljenu manjkavošću ljudske prirode, već kao viševekovni, rekurentni fenomen svojstven zapadnoj (imperijalnoj patrijarhalnoj) kulturi. Među strategijama koje obezbeđuju neometanu upotrebu genocidnog nasilja svakako je sistematska, institucionalizovana proizvodnja neznanja, odnosno falsifikovanje istorije, o čemu rečito govore Goldingovi i Pinterovi eseji, Vidalovi, Pildžerovi ili Monbiotovi komentari, kao i istoriografske studije Svena Lindkvista i Č. S. Vajldera. Međutim, pored guste tkanice laži koja prikriva zločine prošlosti, postoji i spremnost, koju generiše rasistički mit o beloj suprematiji, da se lažima poveruje, a zločini opravdaju. Proizvod tog mita je raspolućeno, od 'drugog' otuđeno jastvo, koje sa svoje strane reprodukuje poznatu i naizgled neizbežnu istoriju nasilja: sve dok se rascep na kome počiva zapadni identitet kritički ne prepozna i eventualno isceli, kako sugerišu filozofi od E. Levinasa, J. Habernasa do H. Žirua, činjenična istina neće imati onaj transformativni učinak koji smo navikli od nje da očekujemo. Suočavanje sa takvim radikalnim unutrašnjim disocijacijama, normalnim i poželjnim u patrijarhalnoj kulturi, suštinska je uloga umetnosti, od grčkih dramatičara i Šekspira do danas: drugi deo rada je stoga posvećen romanu Zemlje sumraka u kome južnoafrički nobelovac Dž. M. Kuci, aludirajući na Hegelovu paradigmu gospodar/rob, otkriva neizlečivu bolest gospodareve duše, odnosno dekonstruiše pseudo-identitet zapadnog čoveka sa kojima su lažna tumačenja neprekinute istorije nasilja u dubokom dosluhu.
Референце
Bieber, F. 2010. A History of Yugoslavia according to some of my students. <http://fbieber.wordpress.com/2010/05/26/a-history-of-yugoslavia-and-easterneurope-according-to-some-of-my-students/>. 28. 1. 2015.
Boal 2008: A. Boal, Aristotle's Coercive System of Tragedy, The Theatre of the Oppressed, London: Pluto Press, 1-40.
Bak-Mors 2003: S. Bak-Mors, Hegel i Haiti, Reč, no. 71/17, 2003, 318-375. Translated by A. Kostić and Bajazetov-Vučen from Susan Buck-Morss, .Hegel and Haiti., Critical Inquiry, Summer 2000, Vol. 26, no. 4, 821-865.
Césaire 2000: A. Césaire, Discourse on Colonialism, Translated by J. Pinkham, New York: Monthly Review Press.
Coetzee 1983: J. M. Coetzee, Dusklands, Harmondsworth: Penguin Books.
Eliot 1969: T. S. Eliot, The Four Quartets, The Complete Poems and Plays, London: Faber and Faber, 169-199.
Eliot 1975: T. S. Eliot, Tradition and the Individual Talent, Selected Prose of T. S. Eliot, Frank Kermode (Ed.), London: Faber and Faber, 37-45.
Elkins 2005: C. Elkins, Britain's Gulag: The Brutal End of Empire in Kenya, London: Jonathan Cape.
Esler 1987: R. Esler, The Chalice and the Blade: Our History, Our Future, New York: HarperCollins Publishers.
Friedberg 2003: L. Friedberg, Dare to Compare: Americanizing the Holocaust, Holocaust: Theoretical Readings., N. Levi & M. Rothberg (Eds.), Edinburgh: Edinburgh University Press, 468-473
Golding 1974: W. Golding, Fable, The Hot Gates, London: Faber and Faber.
Giroux, H. 2013. Segment: Henry Giroux on Zombi Politics, Interview to Bill Moyers and Company. <http://billmoyers.com/segment/henry-giroux-on-zombiepolitics/>. 22. 2. 2015.
Habermas 2003: J. Habermas, On the Public Use of History, The Holocaust: Theoretical Readings, N. Levi & M. Rothberg (Eds.), Edinburgh: Edinburgh University Press, 63-68.
Hegel 1807: G. W. F. Hegel, Lordship and Bondage, The Phenomenology of Mind, from Harper & Row's Torchbooks' edition (1967) of Phenomenology (1807), translated by J. B. Baillie (1910). Hegel-by-Hypertext. <https://www.marxists.org/reference/archive/hegel/index.htm>. 7. 8. 2015.
Hegel 2006: G. W. F. Hegel, The African Character, from Hegel's Philosophy of History (1831) in Joseph Conrad: Heart of Darkness, Norton Critical edition, P. B. Armstrong (Ed.), New York: W. W. Norton & Company, 208-212.
Korten D. 2008. We Are Hard Wired to Care and Connect, YES!Magazine. <http://www.yesmagazine.org/issues/purple-america/we-are-hard-wired-tocare-and-connect>. 12. 7. 2014.
Levi & Rothberg 2003: Levi, N. & Rothberg, M., Introduction to Part IV: Questions of Religion, Ethics and Justice, The Holocaust: Theoretical Readings, N. Levi & M. Rothberg (Eds.), Edinburgh: Edinburgh University Press, 229-232.
Lindquist 1996: S. Lindquist, 'Exterminate All the Brutes': One Man's Odyssey into the Heart of Darkness and the Origins of European Genocide, New York, London: The New Press.
Miller 1987: A. Miller, Timebends: A Life, New York: Grove Press.
Monbiott 2005: G. Monbiott, How Britain Denies Its Holocausts, Guardian, 27th December 2005.
Morales 1998: A. L. Morales, Historian as Curandera, Medicine Stories: History, Culture, and the Politics of Integrity, Cambridge: South End Press, 11-56.
Nietzsche F. 2010. On the Use and Abuse of History for Life, E-text. Translated by Ian Johnston-Nanaimo: Vancouver Island University, BC Canada. <https://records.viu.ca/~Johnstoi/nietzsche/history.htm>. 15. 7. 2015.
Osborne 1957: J. Osborne, Look Back in Anger, London: Faber & Faber.
Pilger, J. 2002. John Pilger finds our children learning lies. <http://www.informationclearinghouse.info/article8112.htm>. 1. 7. 2015.
Rizzolatti & Craighero 2005: Rizzolatti, G., and Craighero, L., Mirror neuron: a neurological approach to empathy. <http://www.robotcub.org/misc/review3/06_Rizzolatti_Craighero.pdf>. 3. 6. 2015.
Rubenstein 1975: R. L. Rubenstein, The Cunning of History: The Holocaust and the American Future, New York: HarperColins Publishers Inc.
Stannard 1992: D. E. Stannard, The American Holocaust: Columbus and The Conquest of the New World, New York, Oxford: Oxford University Press.
Vidal 2000: G. Vidal, The greater the lie: Pearl Harbor, Hiroshima, and the origins of Cold War - Three myths that America is ruled by, TLS, November 10, 16-17.
Ward 1997: C. Ward, A Little Matter of Genocide: Holocaust and Denial in the Americas 1492 – the Present, San Francisco: City Light Books.
Wilder, C. S. 2013. Ebony & Ivy: Race, Slavery, and the Troubled History of America's Universities, New York: Bloomsbury Press <http://www.democracynow.org/2013/10/30/shackles_and_ivy_the_secret_history>. 3. 6. 2015.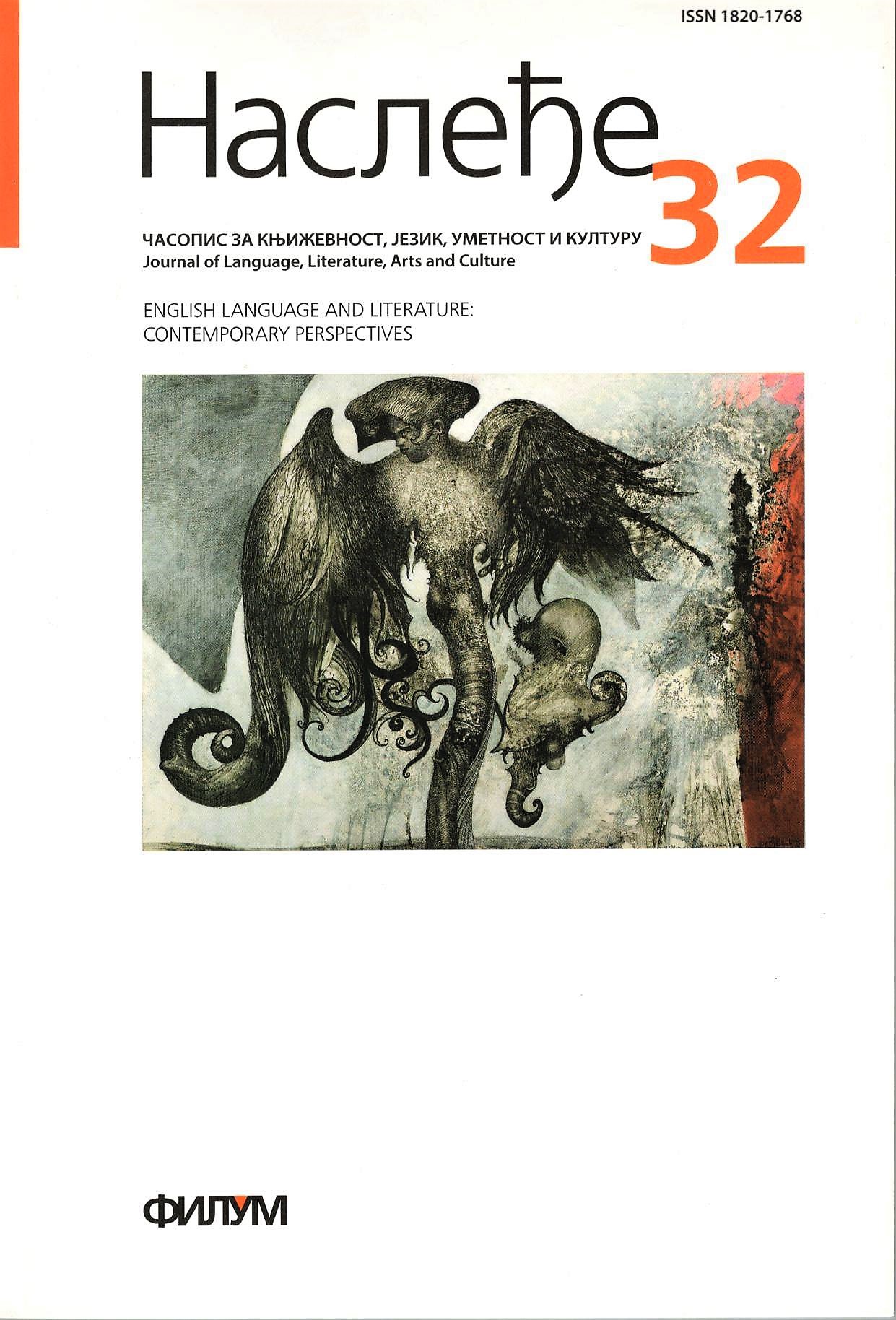 Downloads
Како цитирати
Петровић L. . (2015). JOŠ JEDNOM O VIJETNAMU: ISTORIJA, HOLOKAUST, IDENTITET U SAVREMENOJ KULTUROLOŠKOJ DEBATI I ROMANU ZEMLJE SUMRAKA . Наслеђе, 12(32), 135–150. преузето од http://www.nasledje.kg.ac.rs/index.php/nasledje/article/view/700
Секција
Темат ЕНГЛЕСКИ ЈЕЗИК И КЊИЖЕВНОСТ: САВРЕМЕНЕ ПЕРСПЕКТИВЕ